[GET] Amazon Link Checker – Improve Your Amazon Affiliate Earnings!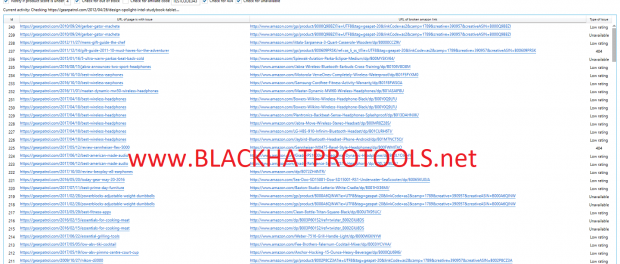 Amazon Link Checker – Improve Your Amazon Affiliate Earnings!
Amazon Link Checker
Amazon Link Checker is a 100% VIP desktop tool that will crawl your Amazon affiliate website checking all your outbound links to Amazon for out of stock, unavailable, 404, missing affiliate tracking IDs and more. You simply enter your website's address and click "Start check" and it will check every webpage on your website for Amazon affiliate links with any issues.
How does this tool work?
Using advanced crawling technology you don't need to tell this tool about every page on your website you simply enter your homepage and it will go page to page searching for outbound links to Amazon. Once it finds one it can check for any of the following issues.
Check product score – You may write an amazon review for a newly launched product that you think is going to be amazing but once people get hold of it they may give it negative reviews. This check will tell you if the average review score is below a certain threshold. With that information you can switch products you are promoting or stop promoting that product with negative reviews.
Out of stock – This simple check will tell you if an Amazon product is out of stock.
Check for affiliate code – This mode will check if your tracking ID (affiliate code) is present in the link to the Amazon product.
Check for 404 – This mode will check for pages you are linking to that no longer exist (or maybe didn't ever) by checking the server HTTP response code. Examples of server HTTP response codes that will cause issues with your links are 404 (page not found) and 500 (internal server error).
Check for unavailable – This mode will check if the product you are linking to is still available and actually being sold.
Why should I use it?
It should be fairly obvious why an affiliate would find this tool useful. If you were to go through your website page by page checking for all of the above issues on every link it would take you literally days at a time. This tool takes about 3 seconds to setup then you simply set it running and come back once its done all the hard work for you. Helping you maximise your stores profit.
NOTE: If you are cloaking your links this tool will not find them. Outbound Amazon affiliate links must be pointing to an Amazon website or using the Amazon URL shortner.