One Group Away Challenge By Alex Elliot – Free Download Course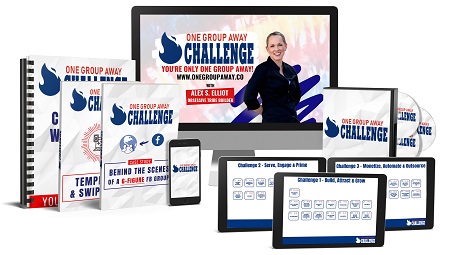 One Group Away Challenge By Alex Elliot – Free Download Course
How to Easily Generate Sales from a Facebook Group, WithOUT Knowing a Thing About Social Media!
Secret #1 – Sales inside a FB Group are the Easiest Sales You'll Ever Make
Secret #2 – You Do Not Need To Be An Extrovert, Expert (or even know what to post) to Run a Successful Facebook Group!!
Secret #3 – As an FB Group Owner, you become the Hunted, instead of the Hunter…
Here's What You'll Get When You Sign Up To The "One Group Away" Challenge…
11+ Hours of "One Group Away" Challenge Video Training
Deep-Dive Training and Actionable Steps to Get You That Much Closer to Engineering a Group that Grows, Engages & Monetizes Itself!
You'll learn exactly how to:
– Architect your group for engagement & monetization from the start!
– Magnetize Hordes of Members to Your Group Without Spending $$$ on Ads!
– Deploy Advanced Group Member Attraction Marketing Methods!
High Profit FB Group Success Roadmap
Step-by-Step Challenge Roadmap, so you can follow along and track your progress throughout the Challenge.
"One Group Away" Challenge Full Course Workbook
This is your "One Group Away" Challenge BIBLE. It's where all the magic happens and where the rubber meets the road in terms of ACTION STEPS and IMPLEMENTATION. All the good stuff happens right here in this workbook!
FB Group Templates & Swipe Files
FB Group Growth, Engagement & Monetization Assets, Swipe Files & Templates to make your group growth journey easier:
– Group Description Templates
– Pinned Post & Welcome Message Templates
– Resources Page Templates and MORE…
Lifetime access to small group FB coaching with Dan & Teresa
Unlimited weekly OGAC Q&A Calls "One Group Away" Challenge Private Facebook Group with FB Groups Experts, Dan & Teresa.
Get all your FB Group questions answered LIVE!
Regular Live, Follow-Along, FB Group Training
Lifetime Access to FB Group Training in our "One Group Away" Challenge Private Facebook Group with FB Group Experts, Dan and Teresa.
Get expert advice on growing, engaging and monetizing your FB Group as you build it!
PLUS: You Get These Bonuses When You Join…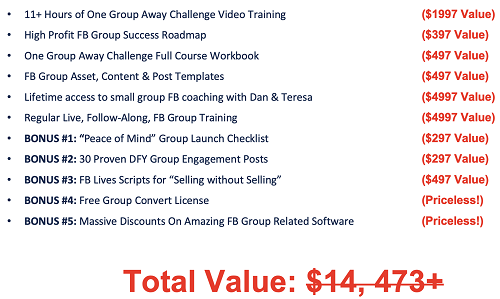 Bonus #1 – "Peace of Mind" Group Launch Checklist
Don't miss a single step when launching your Facebook Group with our step-by-step, follow along Group Launch Checklist.
Bonus #2 – 30 Proven DFY Group Engagement Posts
Learn what differentiates a "Facebook Funeral" from a "Facebook Fiesta" when it comes to groups and how to ensure your FB group never turns into a digital ghost town.
Bonus #3 – FB Lives Monetization Scripts for "Selling without Selling"
Hate selling? Don't ever know what to say to transition from teaching to presenting your products or services? Use these "selling without selling" scripts to sell in your groups without the "ick factor"! If you hate "selling" or "feeling salesy," you will LOVE these scripts!
Get them FREE with the "One Group Away" Challenge!
Bonus #4 – Free Group Convert License
Collect emails from your Facebook group on autopilot, so you can grow your list all while converting your Facebook group users into paying customers!
Usually costs $10/month.
Get it FREE with the "One Group Away" Challenge!
Bonus #5 – MASSIVE Discounts On Amazing FB Group-Related Software & Courses
Get MASSIVE discounts on the following Software & Courses that are beloved by FB Group owners worldwide:
– Comment Funnels by Zeky Ahmed
– Friend Connector by Jon Vaughn
– Link Wizard by Jon Vaughn
– Livestream Mastery by Mario Pajaj