The Influencer Academy By Julie Solomon – Free Download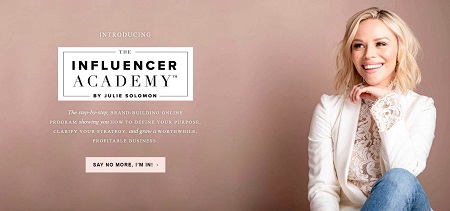 The Influencer Academy By Julie Solomon – Free Download
Let me know if this sounds familiar:
You roll over and immediately move your hand until it hits-yep, right there: A hard, shiny glass screen. You tap open your go-to app and pause until the red pop-up displays a few vital metrics: Followers, check. Comments, check. Mentions, check.
And thus begins the day-you'll just add another shiny screen (mornin', laptop!) and cup of coffee to the mix and quite literally work from sunup to sundown … alternating between Bravo and E! in the background + Postmates on the way while the hours tick later into the evening.
Clicking through your Gmail on one display, thumbing through and answering follower comments on another.
Some days it's playing bumper cars in traffic to get to a photoshoot, most days its endless content creation. It's a constant one-thing-after-another reactionary kind of day.
Honestly, it usually feels like one step forward, and five steps back (Okay, let's just be 2-glasses-of-frosé-al-fresco honest: lately it feels like no steps forward-just a dead end on some days).
Things haven't quite worked out like you thought.
Which makes you that much more agitated when family and friends don't see this as a real business.
Your love/hate addiction to scoping out fellow brands used to be a fun inspo sesh-but now, it's a discouraging little reminder of just how much you have on your endless to-do list to turn this blog into a business.
And as new months tick off in your pretty planner, shifting your goals from "well, that month must have not been the right timing" to the next month, even you-the starry-eyed dreamer-are starting to doubt if you've really got the vision and clarity to make this thing work.
If you're going to reach your full potential, cultivate deep trust with your followers, and grow a community that inspires others … instead of constantly feeling like the driver dropped you off on the plateau of brand growth and there's no piece of the "KILLING the game pie" left over for you.
I've invested months of research and in-person time in the trenches with bloggers just like you:
Entrepreneurs with anywhere from 150 to 150K followers, who still struggle to make this online thing their main source of income, no matter how many blogs they post, how many pitches they send out, or how much they max out the room for 30 hashtags per post that Zuckerberg and his team give us.
Entrepreneurs who-even though they've invested in their brand before-have YET to see an online program that's actually helped them cultivate a purpose-driven gameplan and path to their goals.
Entrepreneurs who, despite starting at the SAME time *she* did, consistently sees other bloggers and brands who seem to be achieving momentum and growth… while they feel stagnant.
The result?
An easy-to-follow formula that gives you a crystal-clear blueprint for the way out of overwhelm and discouragement, so you can get confident with the guidance you need to tap into your brilliance as an influencer.
"Because of The Influencer Academy, I figured out how to set up my e-commerce website and already have two products in my online shop."