The StrADegy System By Amanda Bond – Free Download Facebook Ads Course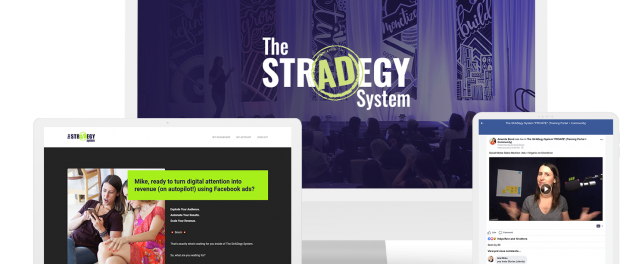 The StrADegy System By Amanda Bond – Free Download Facebook Ads Course
Explode Your Audience. Automate Your Results.
The StrADegy System is the ultimate course for entrepreneurs who want to create scalable, predictable revenue with Facebook ads.
Inside the program, we're combining foundational sales psychology with high-level Facebook wizardry…and amping it all up with accountability, expert support, and live access.
When you join The StrADegy System, you get instant access to…
My signature process for creating Facebook ads that generate leads and sales on autopilot
The exact system me and my clients use to run ads for 7-figure businesses, 6-figure launches, and 5-figure programs…and I'm handing it all over to you
Tech trainings, metrics calculators, step-by-step SOPs, and hands-on support—and the confidence that this system is going to work over and over again
Here's how it breaks down…
In just three months, we're going to turn your Facebook ads into a selling machine. A machine that closes sales, generates leads, and explodes your audience…on autopilot.
Master
The StrADegy System
Your approach to paid ads needs a reboot. So we're kicking off this party with a deep-dive into the fundamentals of The StrADegy System. Learn why your hit-it-and-quit-it ads aren't working and how dynamic ad sequences will amplify your audience, your offers, and your revenue. Also important: learn how to avoid common ad roadblocks, money mindset pits, and shiny objects (like unicorn $0.50 leads).
Implement
The StrADegy System
This is the meat-and-potatoes of this program, where you'll learn how to measure the metrics that really matter (hint: they're not what you think they are), how to create a start-to-finish customer journey (this is about wayyyyyy more than lead gen), how to implement the ish out of your funnel (while wasting zero time), and how to measure your results (with real-time, data-driven feedback from the Facebook gods).
Scale
The StrADegy System
Once you've implemented your first campaign? A whole new world opens up…because you've finally cracked the code to the Facebook ATM. Now it's time to mastermind with other students inside the private support group, scale up your campaigns without blinking an eye, and maybe even get to work on that second funnel. Sky's the limit, baby.
Milestone Zero:
The Foundations Phase — ditch the ads strategy overwhelm and lay the groundwork for massive success.
Zero in on the perfect offer to amplify with The StrADegy System (once you've nailed your signature offer, you can circle back and apply the system to your other offers)
Get crystal clear on your sales process so you can stop wasting time on ad strategies that don't align with your business model
Come face-to-face with your 'ADmotions' and deal with the money mindset BS that comes up when you start investing into ads like a boss
Get your campaigns on the calendar so you can start getting results—and cashing in on that ROI, baby
Learn why most businesses' Facebook ads fail (and how you can SMASH the roadblocks that keep others from succeeding)
Milestone One:
The Close Phase — ramp up your automated sales systems and boost your revenue with Facebook sales conversion wizardry.
Maximize your revenue and find hidden conversion points with a few simple calculations (all about that profitability, baby!)
Play palm-reader and divine your audience's three biggest objections (then massage these objections into high-converting ad copy)
Learn the difference between high-converting Close campaigns that ARE the bomb and the campaigns that DIVE BOMB
Waste zero time setting up your Dynamic Ad Sequences—all the tech magic is laid out in GIFs that make it crazy simple to learn, implement, and check your work
Steal my go-to reporting system that spits out a real-time ROI Snapshot, so you can make sure you're winning on the back end of your ads
Learn which unique ads will create straight-up pandemonium for your offer and have people going all #BlackFriday to get their hands on your ish
Use the unique The StrADegy System framework to revamp your sales process, get lurkers off the fence (and into your programs), and blow up your revenue
The result? Once you've implemented Milestone One, you'll be selling more and earning more…without lifting a finger.
Milestone Two:
The Commit Phase — fill up your client pipeline with highly-engaged, ready-to-buy leads.
Swipe my signature process for overcoming core objections with ads (and watch the keeners in your audience leap into your sales funnel)
Get your list into explosion-mode with some of my favorite high-tech, black-magic Facebook automations
Play matchmaker with your Facebook ads, and make sure your lead generation offers are shown to the perfect people, at the perfect time
Build out your sequences the easy way (with a set of handy-dandy GIFs that map out every part of the process—no tech hang-ups here!)
Learn which metrics matter during this phase (and which metrics you can 100% ignore)
The result? By the end of Milestone Two, your list will be growing (and your leads will be closing) on autopilot.
Milestone Three:
The Connect Phase — send your audience growth into hyperdrive, build authority-level brand awareness, and scale the ish out of your funnel.
Scale your campaign like crazy (while maintaining a lean-and-mean budget)
Dominate the Facebook newsfeed and build an audience that can't wait to see more of you and your brand
Turn on The Decision Accelerator and master the sales psychology behind my signature dynamic ad sequences
Master the art of Ads-Based Audience Indoctrination—and get crystal clear on the elements that set your brand apart and bring in your hottest leads
Learn the secret key to creating a high-engagement trigger ad (helloooooo, audience explosion)
Get the down-low on how to fill your audience pipeline on autopilot (and why it's THE only way to create a sustainable, profitable business in the long-term)
Measure your audience growth and maybe plan a little dance party…because this new audience is about to blow up your sales funnel, big time
The result? By the end of Milestone Three, you'll have an automated sales funnel that fuels your business 24/7 (and turns attention into sales while you sleep).
Once you've launched your first StrADegy campaign, there's no going back.